Loftitan-R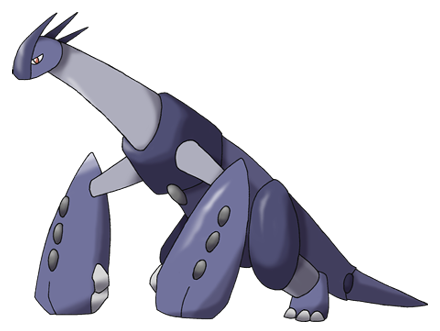 Classification
The Restoration Pokémon
Damage Taken*
Abilities
Ignores the effects of opposing Pokémon's Abilities and moves that draw in moves.

Sturdy

hidden ability

It cannot be knocked out with one hit.
Base Stats (480 total)
| | |
| --- | --- |
| HP: 80 | |
| Attack: 100 | |
| Defense: 105 | |
| Sp. Atk: 50 | |
| Sp. Def: 105 | |
| Speed: 40 | |
Size
Height: 17'7" / 5.4 m
Weight: 1600.3 lbs / 725.9 kg
Breeding Info
Gender Ratio
Genderless
Egg Groups
Tags
Basic, Single-stage, Fully evolved
[?]
Evolutionary Family
Loftitan-R

Does not evolve
Flavor Info
Pokédex Entries
Loftitan-R are robotic restorations of a Pokémon that lived millions of years ago, created to help scientists learn what that Pokémon was like. They put their heavy arms together like a wall or shield and block enemy attacks.
---
It is believed that Loftitan's great weight would have caused the ground to shake with every step it took. The restoration model has been made heavy and incredibly dense as a result, and most attacks seem to bounce right off of it.
Additional Info
Loftitan-R is the signature Pokémon of (and was in fact designed by) New Logoran Gym Leader Mia.
Name Origin
lofty + titan; R for "restoration"
Misc Data
Catch Rate: 45
Base Happiness: 70
Pokédex Categories
Color
Body Shape
Quadrupedal

Level-Up Moves
| Level | Move | Type | Class | Power | Acc | PP | Summary |
| --- | --- | --- | --- | --- | --- | --- | --- |
| 1RL | Fissure | Ground | Physical | * | 30% | 5 | The user opens up a fissure in the ground and drops the target in. The target faints instantly if this attack hits. |
| 1RL | High Horsepower | Ground | Physical | 95 | 95% | 10 | The user fiercely attacks the target using its entire body. |
| 1 | Bide | Normal | Physical | * | —% | 10 | The user endures attacks for two turns, then strikes back to cause double the damage taken. |
| 1 | Piledriver | Steel | Physical | 65 | 100% | 20 | The user brings its steely limb down hard on the target's head, driving it into the ground and reducing its Evasion stat. |
| 1 | Yawn | Normal | Other | — | —% | 10 | The user lets loose a huge yawn that lulls the target into falling asleep on the next turn. |
| 1 | Leer | Normal | Other | — | 100% | 30 | The user gives opposing Pokémon an intimidating leer that lowers the Defense stat. |
| 11 | Curse | Ghost | Other | — | —% | 10 | A move that works differently for the Ghost type than for all other types. |
| 21 | Magnitude | Ground | Physical | * | 100% | 30 | The user attacks everything around it with a ground-shaking quake. Its power varies. |
| 31 | Hammer Arm | Fighting | Physical | 100 | 90% | 10 | The user swings and hits with its strong, heavy fist. It lowers the user's Speed, however. |
| 41 | Iron Defense | Steel | Other | — | —% | 15 | The user hardens its body's surface like iron, sharply raising its Defense stat. |
| 51 | Rest | Psychic | Other | — | —% | 10 | The user goes to sleep for two turns. This fully restores the user's HP and heals any status conditions. |
| 61 | Heavy Slam | Steel | Physical | * | 100% | 10 | The user slams into the target with its heavy body. The more the user outweighs the target, the greater the move's power. |
| 71 | Belly Drum | Normal | Other | — | —% | 10 | The user maximizes its Attack stat in exchange for HP equal to half its max HP. |
| 81 | Pulverize | Steel | Physical | 130 | 90% | 5 | The user savagely bashes the target's body. The attack's recoil harshly lowers the user's Attack stat. |
TM/HM Moves
| # | Move | Type | Class | Power | Acc | PP | Summary |
| --- | --- | --- | --- | --- | --- | --- | --- |
| 002 | Dragon Claw | Dragon | Physical | 80 | 100% | 15 | The user slashes the target with huge, sharp claws. |
| 006 | Toxic | Poison | Other | — | 90% | 10 | A move that leaves the target badly poisoned. Its poison damage worsens every turn. |
| 010 | Hidden Power | Normal | Special | 60 | 100% | 15 | A unique attack that varies in type depending on the Pokémon using it. |
| 011 | Sunny Day | Fire | Other | — | —% | 5 | The user intensifies the sun for five turns, powering up Fire-type moves. |
| 015 | Hyper Beam | Normal | Special | 150 | 90% | 5 | The target is attacked with a powerful beam. The user can't move on the next turn. |
| 017 | Protect | Normal | Other | — | —% | 10 | Enables the user to evade all attacks. Its chance of failing rises if it is used in succession. |
| 018 | Rain Dance | Water | Other | — | —% | 5 | The user summons a heavy rain that falls for five turns, powering up Water-type moves. |
| 021 | Frustration | Normal | Physical | * | 100% | 20 | A full-power attack that grows more powerful the less the user likes its Trainer. |
| 026 | Earthquake | Ground | Physical | 100 | 100% | 10 | The user sets off an earthquake that strikes every Pokémon around it. |
| 027 | Return | Normal | Physical | * | 100% | 20 | A full-power attack that grows more powerful the more the user likes its Trainer. |
| 031 | Brick Break | Fighting | Physical | 75 | 100% | 15 | The user attacks with a swift chop. It can also break barriers, such as Light Screen and Reflect. |
| 032 | Double Team | Normal | Other | — | —% | 15 | By moving rapidly, the user makes illusory copies of itself to raise its evasiveness. |
| 037 | Sandstorm | Rock | Other | — | —% | 10 | A five-turn sandstorm is summoned to hurt all combatants except the Rock, Ground, and Steel types. |
| 039 | Rock Tomb | Rock | Physical | 60 | 95% | 15 | Boulders are hurled at the target. This also lowers the target's Speed stat by preventing its movement. |
| 042 | Facade | Normal | Physical | 70 | 100% | 20 | An attack move that doubles its power if the user is poisoned, burned, or has paralysis. |
| 044 | Rest | Psychic | Other | — | —% | 10 | The user goes to sleep for two turns. This fully restores the user's HP and heals any status conditions. |
| 048 | Round | Normal | Special | 60 | 100% | 15 | The user attacks the target with a song. Others can join in the Round and make the attack do greater damage. |
| 056 | Fling | Dark | Physical | * | 100% | 10 | The user flings its held item at the target to attack. This move's power and effects depend on the item. |
| 066 | Payback | Dark | Physical | 50 | 100% | 10 | The user stores power, then attacks. If the user moves after the target, this attack's power will be doubled. |
| 068 | Giga Impact | Normal | Physical | 150 | 90% | 5 | The user charges at the target using every bit of its power. The user can't move on the next turn. |
| 071 | Stone Edge | Rock | Physical | 100 | 80% | 5 | The user stabs the target with sharpened stones from below. Critical hits land more easily. |
| 078 | Bulldoze | Ground | Physical | 60 | 100% | 20 | The user strikes everything around it by stomping down on the ground. This lowers the Speed stat of those hit. |
| 080 | Rock Slide | Rock | Physical | 75 | 90% | 10 | Large boulders are hurled at the opposing Pokémon to inflict damage. This may also make the opposing Pokémon flinch. |
| 082 | Dragon Tail | Dragon | Physical | 60 | 90% | 10 | The target is knocked away, and a different Pokémon is dragged out. In the wild, this ends a battle against a single Pokémon. |
| 087 | Swagger | Normal | Other | — | 85% | 15 | The user enrages and confuses the target. However, this also sharply raises the target's Attack stat. |
| 088 | Sleep Talk | Normal | Other | — | —% | 10 | While it is asleep, the user randomly uses one of the moves it knows. |
| 090 | Substitute | Normal | Other | — | —% | 10 | The user makes a copy of itself using some of its HP. The copy serves as the user's decoy. |
| 091 | Flash Cannon | Steel | Special | 80 | 100% | 10 | The user gathers all its light energy and releases it at once. This may also lower the target's Sp. Def stat. |
| 094 | Rock Smash | Fighting | Physical | 40 | 100% | 15 | The user attacks with a punch. This may also lower the target's Defense stat. This move can also shatter rocks in the field. |
| 100 | Confide | Normal | Other | — | —% | 20 | The user tells the target a secret, and the target loses its ability to concentrate. This lowers the target's Sp. Atk stat. |
| H04 | Strength | Normal | Physical | 80 | 100% | 15 | The target is slugged with a punch thrown at maximum power. This can also be used to move heavy boulders. |
| ZC06 | Diamond Claw | Rock | Physical | 50 | 90% | 10 | The user attacks with diamond-hard claws. The user may use any remaining tough minerals to raise its Attack stat. |
| ZC09 | Aftershock | Ground | Physical | 60 | 100% | 10 | The user strikes the ground and causes a series of tremors that shake the target over two turns. |
| ZC15 | Piledriver | Steel | Physical | 65 | 100% | 20 | The user brings its steely limb down hard on the target's head, driving it into the ground and reducing its Evasion stat. |
| ZC30 | Magnet Switch | Steel | Special | 40 | 100% | 10 | The target is blasted away, and a different Pokémon is dragged out. In the wild, this ends a battle against a single Pokémon. |
| ZC33 | Lariat | Fighting | Physical | 80 | 100% | 20 | The user knocks the opponent down hard with a mighty swing of its arm, startling it out of any attacks it might have been preparing. |
| ZC34 | Glacier Crush | Ice | Physical | 120 | 100% | 10 | A two-turn attack. The user gathers ice and snow, then charges with terrible force on the second turn. |
| ZC38 | Radiant Claw | Dragon | Physical | 80 | 100% | 10 | The user slashes with claws glowing with powerful golden energy. This attack does special damage. |
| ZC43 | Brain Press | Psychic | Physical | * | 100% | 10 | The user squeezes the target's head and applies painful pressure. The higher the target's Special Attack, the greater the damage. |
| ZC49 | Pulverize | Steel | Physical | 130 | 90% | 5 | The user savagely bashes the target's body. The attack's recoil harshly lowers the user's Attack stat. |
| ZC51 | Restrain | Dark | Physical | 10 | 90% | 20 | The target is grabbed and squeezed for four to five turns. Holding the target in place makes it easier to catch. |
| ZC52 | Berry Share | Normal | Other | — | —% | 10 | The user shares its held Berry with the target. The target is placated by the gift and may be easier to catch. |
| ZC53 | Hidden Gift | Normal | Other | — | —% | 10 | A unique attack that varies in effect depending on the Pokémon using it. |
| ZC54 | Clear Sky | Normal | Other | — | —% | 5 | The user clears the skies and calms the wind, returning the weather to normal. |
Tutor Moves
| Move | Type | Class | Power | Acc | PP | Summary |
| --- | --- | --- | --- | --- | --- | --- |
| Amaze | Normal | Physical | * | 100% | 15 | The user amazes the foe with its coolness and then attacks. It grows in power the cooler the user is. |
| Ancient Power | Rock | Special | 60 | 100% | 5 | The user attacks with a prehistoric power. This may also raise all the user's stats at once. |
| Aqua Tail | Water | Physical | 90 | 90% | 10 | The user attacks by swinging its tail as if it were a vicious wave in a raging storm. |
| Avalanche | Ice | Physical | 60 | 100% | 10 | An attack move that inflicts double the damage if the user has been hurt by the target in the same turn. |
| Body Press | Fighting | Physical | 80 | 100% | 10 | The user attacks by slamming its body into the target. The higher the user's Defense, the more damage it can inflict on the target. |
| Brutal Swing | Dark | Physical | 60 | 100% | 20 | The user swings its body around violently to inflict damage on everything in its vicinity. |
| Confound | Normal | Special | * | 100% | 15 | The user confounds the foe with its cleverness and then attacks. It grows in power the cleverer the user is. |
| Dazzle | Normal | Special | * | 100% | 15 | The user dazzles the foe with its cuteness and then attacks. It grows in power the cuter the user is. |
| Demolish | Normal | Physical | * | 100% | 15 | The user frightens the foe with its toughness and then attacks. It grows in power the tougher the user is. |
| Dragon Pulse | Dragon | Special | 85 | 100% | 10 | The target is attacked with a shock wave generated by the user's gaping mouth. |
| Endure | Normal | Other | — | —% | 10 | The user endures any attack with at least 1 HP. Its chance of failing rises if it is used in succession. |
| Enthrall | Normal | Special | * | 100% | 15 | The user enchants the foe with its beauty and then attacks. It grows in power the more beautiful the user is. |
| Fire Punch | Fire | Physical | 75 | 100% | 15 | The target is punched with a fiery fist. This may also leave the target with a burn. |
| Focus Punch | Fighting | Physical | 150 | 100% | 20 | The user focuses its mind before launching a punch. This move fails if the user is hit before it is used. |
| Headbutt | Normal | Physical | 70 | 100% | 15 | The user sticks out its head and attacks by charging straight into the target. This may also make the target flinch. |
| Ice Punch | Ice | Physical | 75 | 100% | 15 | The target is punched with an icy fist. This may also leave the target frozen. |
| Iron Defense | Steel | Other | — | —% | 15 | The user hardens its body's surface like iron, sharply raising its Defense stat. |
| Iron Head | Steel | Physical | 80 | 100% | 15 | The user slams the target with its steel-hard head. This may also make the target flinch. |
| Iron Tail | Steel | Physical | 100 | 75% | 15 | The target is slammed with a steel-hard tail. This may also lower the target's Defense stat. |
| Magnet Rise | Electric | Other | — | —% | 10 | The user levitates using electrically generated magnetism for five turns. |
| Meteor Beam | Rock | Special | 120 | 90% | 10 | In this two-turn attack, the user gathers space power and boosts its Sp. Atk stat, then attacks the target on the next turn. |
| Natural Gift | Normal | Physical | * | 100% | 15 | The user draws power to attack by using its held Berry. The Berry determines the move's type and power. |
| Recycle | Normal | Other | — | —% | 10 | The user recycles a held item that has been used in battle so it can be used again. |
| Secret Power | Normal | Physical | 70 | 100% | 20 | The user attacks the target with a secret power. Its additional effects vary depending on the user's environment. |
| Shock Wave | Electric | Special | 60 | —% | 20 | The user strikes the target with a quick jolt of electricity. This attack never misses. |
| Snore | Normal | Special | 50 | 100% | 15 | An attack that can be used only if the user is asleep. The harsh noise may also make the target flinch. |
| Stealth Rock | Rock | Other | — | —% | 20 | The user lays a trap of levitating stones around the opposing team. The trap hurts opposing Pokémon that switch into battle. |
| Steel Beam | Steel | Special | 140 | 95% | 5 | The user fires a beam of steel that it collected from its entire body. This also damages the user. |
| Steel Roller | Steel | Physical | 130 | 100% | 5 | The user attacks while destroying the terrain. This move fails when the ground hasn't turned into a terrain. |
| Stomping Tantrum | Ground | Physical | 75 | 100% | 10 | Driven by frustration, the user attacks the target. If the user's previous move has failed, the power of this move doubles. |
| Superpower | Fighting | Physical | 120 | 100% | 5 | The user attacks the target with great power. However, this also lowers the user's Attack and Defense stats. |
| Thunder Punch | Electric | Physical | 75 | 100% | 15 | The target is punched with an electrified fist. This may also leave the target with paralysis. |