Ventorm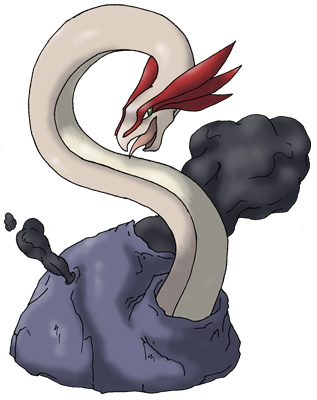 Classification
The Vent Worm Pokémon
Damage Taken*
Abilities
Prevents other Pokémon's moves or Abilities from lowering this Pokémon's stats.

Solid Rock

hidden ability

Reduces the power of supereffective attacks taken.
Base Stats (520 total)
| | |
| --- | --- |
| HP: 80 | |
| Attack: 60 | |
| Defense: 110 | |
| Sp. Atk: 120 | |
| Sp. Def: 100 | |
| Speed: 50 | |
Size
Height: 15'7" / 4.7 m
Weight: 369.9 lbs / 167.8 kg
Breeding Info
Gender Ratio
50% male / 50% female
Egg Groups
Tags
[?]
Flavor Info
Pokédex Entries
Ventorm live at the bottom of the sea. Their heavy, rock-like shells keep them in one place, but they strike at their prey with alarming speed. When threatened, they can retreat into their shells in an instant.
---
The water stored in a Ventorm's body is expelled, along with sediment and noxious gases, from the vents in their shells. They prefer to conserve the water when on land, however, and so black smoke can be seen issuing from the vents instead.
Additional Info
By the time Wyrmal evolve into Ventorm, the sediment they collect from the hydrothermal vents has formed into an incredibly strong shell. The soft bodies of the Ventorm become one with the rock-like shells, much like the way a turtle's shell works. They can retract their long necks back into themselves and into the shell for protection; while their rock bases prevent them from moving from the one spot in which they settle, Ventorm can strike out of and pull into their shells incredibly quickly, more than fast enough to catch most prey or avoid most attacks.
Even though they have magma in their bodies, as sea creatures Ventorm need to keep hydrated as well. As such, they swallow water all of the time (for filtering out oxygen as well as for regulating their temperature, etc.). The water that Ventorm swallow is combined with minerals and gases they take in from their prey and their environment, and is forced out of openings in their bases in big clouds of sediment, much like the black smoker vents around which they live. When on land they cannot afford to expel all of that water unless they need to do so in battle; as such, during these times thick smoke often issues from their vents instead.
Name Origin
vent + worm (also "ormr", Old Norse for "snake" or "dragon")
Misc Data
Catch Rate: 60
Base Happiness: 70
Wild Held Items
Pokédex Categories
Color
Body Shape
Serpentine

Level-Up Moves
| Level | Move | Type | Class | Power | Acc | PP | Summary |
| --- | --- | --- | --- | --- | --- | --- | --- |
| 1RL | Coil | Poison | Other | — | —% | 20 | The user coils up and concentrates. This raises its Attack and Defense stats as well as its accuracy. |
| 1RL | Hydroshock | Water | Special | 80 | 100% | 10 | The user blasts the target with high-pressure water. This attack does physical damage. |
| 1 | Bite | Dark | Physical | 60 | 100% | 25 | The target is bitten with viciously sharp fangs. This may also make the target flinch. |
| 1 | Withdraw | Water | Other | — | —% | 40 | The user withdraws its body into its hard shell, raising its Defense stat. |
| 4 | Wrap | Normal | Physical | 15 | 90% | 20 | A long body or vines are used to wrap and squeeze the target for four to five turns. |
| 9 | Water Gun | Water | Special | 40 | 100% | 25 | The target is blasted with a forceful shot of water. |
| 12 | Bide | Normal | Physical | * | —% | 10 | The user endures attacks for two turns, then strikes back to cause double the damage taken. |
| 17 | Pulse Jet | Fire | Special | 40 | 100% | 20 | The user shoots a pulse of intense heat that blasts the target before it can react. This move always goes first. |
| 20 | Dragon Breath | Dragon | Special | 60 | 100% | 20 | The user exhales a mighty gust that inflicts damage. This may also leave the target with paralysis. |
| 25 | Smokescreen | Normal | Other | — | 100% | 20 | The user releases an obscuring cloud of smoke or ink. This lowers the target's accuracy. |
| 28 | Scald | Water | Special | 80 | 100% | 15 | The user shoots boiling hot water at its target. This may also leave the target with a burn. |
| 33 | Corrode | Poison | Other | — | —% | 40 | Enables a Steel-type target to be hit by Poison-type attacks. It also melts away defenses. |
| 41 | Muddy Water | Water | Special | 90 | 85% | 10 | The user attacks by shooting muddy water at the opposing Pokémon. This may also lower their accuracy. |
| 49 | Steam Bath | Water | Other | — | —% | 10 | The user and its allies relax in a soothing curtain of steam. It restores the user's HP by up to half of its max HP. |
| 55 | Lava Plume | Fire | Special | 80 | 100% | 15 | The user torches everything around it with an inferno of scarlet flames. This may also leave those hit with a burn. |
| 63 | Eruption | Fire | Special | 150 | 100% | 5 | The user attacks opposing Pokémon with explosive fury. The lower the user's HP, the lower the move's power. |
TM/HM Moves
| # | Move | Type | Class | Power | Acc | PP | Summary |
| --- | --- | --- | --- | --- | --- | --- | --- |
| 005 | Roar | Normal | Other | — | —% | 20 | The target is scared off, and a different Pokémon is dragged out. In the wild, this ends a battle against a single Pokémon. |
| 006 | Toxic | Poison | Other | — | 90% | 10 | A move that leaves the target badly poisoned. Its poison damage worsens every turn. |
| 010 | Hidden Power | Normal | Special | 60 | 100% | 15 | A unique attack that varies in type depending on the Pokémon using it. |
| 011 | Sunny Day | Fire | Other | — | —% | 5 | The user intensifies the sun for five turns, powering up Fire-type moves. |
| 015 | Hyper Beam | Normal | Special | 150 | 90% | 5 | The target is attacked with a powerful beam. The user can't move on the next turn. |
| 017 | Protect | Normal | Other | — | —% | 10 | Enables the user to evade all attacks. Its chance of failing rises if it is used in succession. |
| 018 | Rain Dance | Water | Other | — | —% | 5 | The user summons a heavy rain that falls for five turns, powering up Water-type moves. |
| 021 | Frustration | Normal | Physical | * | 100% | 20 | A full-power attack that grows more powerful the less the user likes its Trainer. |
| 027 | Return | Normal | Physical | * | 100% | 20 | A full-power attack that grows more powerful the more the user likes its Trainer. |
| 032 | Double Team | Normal | Other | — | —% | 15 | By moving rapidly, the user makes illusory copies of itself to raise its evasiveness. |
| 034 | Sludge Wave | Poison | Special | 95 | 100% | 10 | The user strikes everything around it by swamping the area with a giant sludge wave. This may also poison those hit. |
| 035 | Flamethrower | Fire | Special | 90 | 100% | 15 | The target is scorched with an intense blast of fire. This may also leave the target with a burn. |
| 036 | Sludge Bomb | Poison | Special | 90 | 100% | 10 | Unsanitary sludge is hurled at the target. This may also poison the target. |
| 037 | Sandstorm | Rock | Other | — | —% | 10 | A five-turn sandstorm is summoned to hurt all combatants except the Rock, Ground, and Steel types. |
| 038 | Fire Blast | Fire | Special | 110 | 85% | 5 | The target is attacked with an intense blast of all-consuming fire. This may also leave the target with a burn. |
| 039 | Rock Tomb | Rock | Physical | 60 | 95% | 15 | Boulders are hurled at the target. This also lowers the target's Speed stat by preventing its movement. |
| 042 | Facade | Normal | Physical | 70 | 100% | 20 | An attack move that doubles its power if the user is poisoned, burned, or has paralysis. |
| 044 | Rest | Psychic | Other | — | —% | 10 | The user goes to sleep for two turns. This fully restores the user's HP and heals any status conditions. |
| 045 | Attract | Normal | Other | — | 100% | 15 | If it is the opposite gender of the user, the target becomes infatuated and less likely to attack. |
| 048 | Round | Normal | Special | 60 | 100% | 15 | The user attacks the target with a song. Others can join in the Round and make the attack do greater damage. |
| 050 | Overheat | Fire | Special | 130 | 90% | 5 | The user attacks the target at full power. The attack's recoil harshly lowers the user's Sp. Atk stat. |
| 055 | Scald | Water | Special | 80 | 100% | 15 | The user shoots boiling hot water at its target. This may also leave the target with a burn. |
| 059 | Incinerate | Fire | Special | 60 | 100% | 15 | The user attacks opposing Pokémon with fire. If a Pokémon is holding a certain item, such as a Berry, the item becomes burned up and unusable. |
| 061 | Will-O-Wisp | Fire | Other | — | 85% | 15 | The user shoots a sinister, bluish-white flame at the target to inflict a burn. |
| 064 | Explosion | Normal | Physical | 250 | 100% | 5 | The user attacks everything around it by causing a tremendous explosion. The user faints upon using this move. |
| 066 | Payback | Dark | Physical | 50 | 100% | 10 | The user stores power, then attacks. If the user moves after the target, this attack's power will be doubled. |
| 068 | Giga Impact | Normal | Physical | 150 | 90% | 5 | The user charges at the target using every bit of its power. The user can't move on the next turn. |
| 069 | Rock Polish | Rock | Other | — | —% | 20 | The user polishes its body to reduce drag. This can sharply raise the Speed stat. |
| 071 | Stone Edge | Rock | Physical | 100 | 80% | 5 | The user stabs the target with sharpened stones from below. Critical hits land more easily. |
| 074 | Gyro Ball | Steel | Physical | * | 100% | 5 | The user tackles the target with a high-speed spin. The slower the user compared to the target, the greater the move's power. |
| 080 | Rock Slide | Rock | Physical | 75 | 90% | 10 | Large boulders are hurled at the opposing Pokémon to inflict damage. This may also make the opposing Pokémon flinch. |
| 087 | Swagger | Normal | Other | — | 85% | 15 | The user enrages and confuses the target. However, this also sharply raises the target's Attack stat. |
| 088 | Sleep Talk | Normal | Other | — | —% | 10 | While it is asleep, the user randomly uses one of the moves it knows. |
| 090 | Substitute | Normal | Other | — | —% | 10 | The user makes a copy of itself using some of its HP. The copy serves as the user's decoy. |
| 100 | Confide | Normal | Other | — | —% | 20 | The user tells the target a secret, and the target loses its ability to concentrate. This lowers the target's Sp. Atk stat. |
| ZC10 | Miasma Terrain | Poison | Other | — | —% | 10 | The user covers the ground under everyone's feet with noxious fog for five turns. This damages Pokémon on the ground a little every turn. |
| ZC21 | Crystallize | Rock | Other | — | —% | 20 | The user's body takes on a hard, crystalline structure that raises its Defense and Special Defense. |
| ZC22 | Sandblast | Ground | Physical | 55 | 95% | 10 | The user fires a high-pressure stream of sand at the target. It may also burn the target. |
| ZC23 | Golden Flame | Dragon | Special | 75 | 100% | 15 | The user exhales a stream of sparkling flames. It can also burn down barriers, such as Light Screen and Reflect. |
| ZC26 | Oil Slick | Poison | Other | — | —% | 15 | The user soaks the floor beneath the opposing team with slippery oil, making their footing treacherous and direct contact attacks difficult. |
| ZC36 | Mudslide | Ground | Special | 60 | 100% | 10 | An attack move that inflicts double the damage if the user has been hurt by the target in the same turn. |
| ZC41 | Burn Away | Fire | Other | — | —% | 10 | A fire scorches the battlefield, destroying any modifications or constructs that have been set up. |
| ZC52 | Berry Share | Normal | Other | — | —% | 10 | The user shares its held Berry with the target. The target is placated by the gift and may be easier to catch. |
| ZC53 | Hidden Gift | Normal | Other | — | —% | 10 | A unique attack that varies in effect depending on the Pokémon using it. |
| ZC54 | Clear Sky | Normal | Other | — | —% | 5 | The user clears the skies and calms the wind, returning the weather to normal. |
| ZC55 | Acid Rain | Poison | Special | 110 | 85% | 10 | The opposing team is drenched in a shower of caustic liquid. The acid may also lower the targets' Sp. Def stats. |
Tutor Moves
| Move | Type | Class | Power | Acc | PP | Summary |
| --- | --- | --- | --- | --- | --- | --- |
| Amaze | Normal | Physical | * | 100% | 15 | The user amazes the foe with its coolness and then attacks. It grows in power the cooler the user is. |
| Ancient Power | Rock | Special | 60 | 100% | 5 | The user attacks with a prehistoric power. This may also raise all the user's stats at once. |
| Brine | Water | Special | 65 | 100% | 10 | If the target's HP is half or less, this attack will hit with double the power. |
| Brutal Swing | Dark | Physical | 60 | 100% | 20 | The user swings its body around violently to inflict damage on everything in its vicinity. |
| Captivate | Normal | Other | — | 100% | 20 | If any opposing Pokémon is the opposite gender of the user, it is charmed, which harshly lowers its Sp. Atk stat. |
| Confound | Normal | Special | * | 100% | 15 | The user confounds the foe with its cleverness and then attacks. It grows in power the cleverer the user is. |
| Dazzle | Normal | Special | * | 100% | 15 | The user dazzles the foe with its cuteness and then attacks. It grows in power the cuter the user is. |
| Demolish | Normal | Physical | * | 100% | 15 | The user frightens the foe with its toughness and then attacks. It grows in power the tougher the user is. |
| Dragon Pulse | Dragon | Special | 85 | 100% | 10 | The target is attacked with a shock wave generated by the user's gaping mouth. |
| Earth Power | Ground | Special | 90 | 100% | 10 | The user makes the ground under the target erupt with power. This may also lower the target's Sp. Def. |
| Endure | Normal | Other | — | —% | 10 | The user endures any attack with at least 1 HP. Its chance of failing rises if it is used in succession. |
| Enthrall | Normal | Special | * | 100% | 15 | The user enchants the foe with its beauty and then attacks. It grows in power the more beautiful the user is. |
| Gastro Acid | Poison | Other | — | 100% | 10 | The user hurls up its stomach acids on the target. The fluid eliminates the effect of the target's Ability. |
| Gunk Shot | Poison | Physical | 120 | 80% | 5 | The user shoots filthy garbage at the target to attack. This may also poison the target. |
| Headbutt | Normal | Physical | 70 | 100% | 15 | The user sticks out its head and attacks by charging straight into the target. This may also make the target flinch. |
| Heat Wave | Fire | Special | 95 | 90% | 10 | The user attacks by exhaling hot breath on the opposing Pokémon. This may also leave those Pokémon with a burn. |
| Iron Defense | Steel | Other | — | —% | 15 | The user hardens its body's surface like iron, sharply raising its Defense stat. |
| Natural Gift | Normal | Physical | * | 100% | 15 | The user draws power to attack by using its held Berry. The Berry determines the move's type and power. |
| Rollout | Rock | Physical | 30 | 90% | 20 | The user continually rolls into the target over five turns. It becomes more powerful each time it hits. |
| Secret Power | Normal | Physical | 70 | 100% | 20 | The user attacks the target with a secret power. Its additional effects vary depending on the user's environment. |
| Snore | Normal | Special | 50 | 100% | 15 | An attack that can be used only if the user is asleep. The harsh noise may also make the target flinch. |
| Stealth Rock | Rock | Other | — | —% | 20 | The user lays a trap of levitating stones around the opposing team. The trap hurts opposing Pokémon that switch into battle. |
| Swift | Normal | Special | 60 | —% | 20 | Star-shaped rays are shot at the opposing Pokémon. This attack never misses. |
| Twister | Dragon | Special | 40 | 100% | 20 | The user whips up a vicious tornado to tear at the opposing Pokémon. This may also make them flinch. |
| Water Pulse | Water | Special | 60 | 100% | 20 | The user attacks the target with a pulsing blast of water. This may also confuse the target. |
Egg Moves
| Move | Type | Class | Power | Acc | PP | Summary |
| --- | --- | --- | --- | --- | --- | --- |
| Crunch | Dark | Physical | 80 | 100% | 15 | The user crunches up the target with sharp fangs. This may also lower the target's Defense stat. |
| Haze | Ice | Other | — | —% | 30 | The user creates a haze that eliminates every stat change among all the Pokémon engaged in battle. |
| Hydro Pump | Water | Special | 110 | 80% | 5 | The target is blasted by a huge volume of water launched under great pressure. |
| Octazooka | Water | Special | 65 | 85% | 10 | The user attacks by spraying ink in the target's face or eyes. This may also lower the target's accuracy. |
| Poison Gas | Poison | Other | — | 90% | 40 | A cloud of poison gas is sprayed in the face of opposing Pokémon. This may also poison those hit. |
| Refresh | Normal | Other | — | —% | 20 | The user rests to cure itself of a poisoning, burn, or paralysis. |
| Spit Up | Normal | Special | * | 100% | 10 | The power stored using the move Stockpile is released at once in an attack. The more power is stored, the greater the move's power. |
| Stockpile | Normal | Other | — | —% | 20 | The user charges up power and raises both its Defense and Sp. Def stats. The move can be used three times. |
| Swallow | Normal | Other | — | —% | 10 | The power stored using the move Stockpile is absorbed by the user to heal its HP. Storing more power heals more HP. |
| Wring Out | Normal | Special | * | 100% | 5 | The user powerfully wrings the target. The more HP the target has, the greater the move's power. |
Artwork
(click thumbnail to enlarge. the works below are not included in any CC license that may apply to the fakemon/form depicted on this page. ask the original creator's permission before attempting to use anything shown below.)