Fiery Charm
Stats
| Base Power | Power Points | Accuracy |
| --- | --- | --- |
| — | 15 | 100% |
| Effect Chance | Priority | Target |
| —% | 0 | Single non-user |
Flavor Text
The user blows a beautiful wisp of golden flame at the target, leaving it with a burn and lowering its Special Attack.
Move Illustration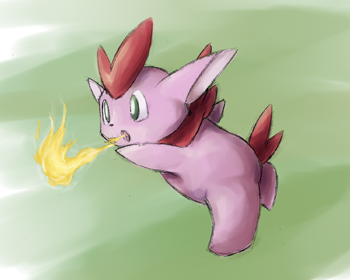 Move Description
The user exhales a small, shimmering golden flame that wafts over to the opponent in an enticing dance, then gently touches it before vanishing and leaving it with a terrible burn that mars both its physical and elemental strength.
Fiery Charm is Kindelf, Pyrobin and Solberon's signature move.
Effect
Burns the target and lowers its Special Attack by one stage.
Pokémon that learn Fiery Charm by level (3)
Phoenixdex Pokémon (3)